EDITOR
Dr. Saiful I. Dildar






I.T. Manager
Mohammad Ruhul Amin



Assistance by :
The Institute of Rural Development-IRD



EDITORIAL OFFICE:
Bangladesh Human Rights Commission (BHRC)
222/Kha, Malibag (1st floor)
Fat # C-2, Dhaka-1217
G.P.O. Box- 3725, Bangladesh. Tel: 88-02-9361353, 01714098355
Fax: 88-02-9343501, 8321085
E-mail: hrm.news24@gmail.com
Website: www.bhrc-bd.org

Editorial

'Fortnightly' পাক্ষিক

'Manabadhikar'মানবাধিকার

২৯তম বর্ষ ৬৯৭তম সংখ্যা ১ জুলাই ২০২১ইং



মানব পাচার এবং মানবাধিকার



কিছুতেই বন্ধ হচ্ছে না মানব পাচার। দেশে কর্মসংস্থানের ক্ষেত্র সীমিত হয়ে পড়ায় জীবনের ঝুঁকি নিয়ে ইউরোপমুখী হওয়ার প্রবণতা বরং মাথা চাড়া দিয়ে উঠেছে শিক্ষিত বেকারদের মধ্যে। বাংলাদেশ থেকে লিবিয়া এবং সেখান থেকে দুস্তর মরুপথ পাড়ি দিয়ে ভূমধ্যসাগর তীর থেকে নৌকা-জাতীয় জলযানে ঝুঁকিপূর্ণ পথে ইউরোপে পাড়ি জমানো নিয়মিত ব্যাপার হয়ে দাঁড়িয়েছে। এভাবে ইউরোপে যাওয়ার চেষ্টা করতে গিয়ে ইতিমধ্যে প্রাণ হারিয়েছেন শত শত যুবক। নিঃস্ব হয়েছে অনেক পরিবার। হতভাগ্য যুবকদের একাংশকে জিম্মি করে মুক্তিপণ আদায়ের ঘটনাও ঘটেছে। ভূমধ্যসাগর থেকে ভাসমান অবস্থায় আবারও বাংলাদেশিসহ ১৭৮ অভিবাসনপ্রত্যাশীকে উদ্ধার করেছে তিউনিসিয়ার নৌবাহিনী। উদ্ধার করা হয়েছে দুজনের লাশও। উদ্ধারকৃতের বেশির ভাগই বাংলাদেশি। তারা নৌকায় অবৈধভাবে লিবিয়া থেকে ভূমধ্যসাগর পাড়ি দিয়ে ইউরোপের উদ্দেশে যাত্রা করছিলেন। পথে তাদের নৌকা ভেঙে যায় এবং ডুবে যেতে থাকে। সংকেত পেয়ে তিউনিসিয়া নৌবাহিনীর সদস্যরা গিয়ে তাদের উদ্ধার করেন। এর আগে ২৫ জুন ভূমধ্যসাগরে ভাসমান অবস্থা থেকে ২৬৪ বাংলাদেশিকে উদ্ধার করা হয়। ২৬৪ বাংলাদেশি ও তিন মিসরীয়- মোট ২৬৭ অভিবাসনপ্রত্যাশী অবৈধভাবে লিবিয়া থেকে ইউরোপ যাওয়ার পথে মাঝসমুদ্রে নৌকাটি বিকল হয়ে গেলে বিপদে পড়েন। বাংলাদেশ অর্থনৈতিকভাবে যেসব দেশ দ্রুত অগ্রগতি লাভ করছে তাদেরই দলে। কিন্তু এ দেশ থেকে মানব পাচার শ্রীবৃদ্ধির সুনাম প্রকারান্তরে কলুষিত করছে। ভুল বার্তা যাচ্ছে বিশ্বসমাজের কাছে। দেশের সুনামের স্বার্থে মানব পাচার সম্পর্কে সরকারকে কড়া হতে হবে। এর পাশাপাশি কেন মানুষ ঝুঁকিপূর্ণ পথে অবৈধভাবে বিদেশে পাড়ি জমাতে চাচ্ছে সে কারণও উদ্ঘাটন করতে হবে। কর্মসংস্থানের ক্ষেত্রে যে সংকট চলছে তার গ্রন্থিমোচনের উদ্যোগ নিতে হবে জরুরিভাবে।



PM releases posters of 'Chironjib Mujib'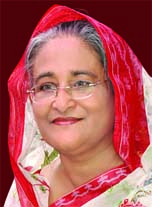 Human Rights Report
Prime Minister Sheikh Hasina releases three posters of feature film 'Chironjib Mujib' with her signatures at a sample ceremony at Ganobhaban on Wednesday. -PID photo
Prime Minister Sheikh Hasina released the posters of a feature film titled 'Chironjib Mujib' based upon the 'Ausamapta Atmajiboni' (The Unfinished Memoirs), an autobiography of Father of the Nation Bangabandhu Sheikh Mujibur Rahman on Wednesday, reports BSS.
The Premier released three posters of the film through signing from her official Ganabhaban residence in the capital on the morning.
Prime Minister's Speech Writer and Director of the film Nazrul Islam was, among others, present on the occasion.
The film, dedicated by Bangabandhu's daughters Sheikh Hasina and Sheikh Rehana, made under the banner of Haider Enterprise will be released in August next.
Actors Ahmed Rubel (main character), Purnima, Khairul Alam Sabuj, late SM Mohsin, Dilara Zaman, Azad Abul Kalam, Shatabdi Wadud, Somu Chowdhury, Arman Parvez Murad, Shahjahan Samrat, late Selim Ahmed and Jewel Mahmud will be seen acting in the film.

.

.
BHRC Human Rights Report on June- 2021
1875 people died of Covid-19 in June 2021
Total 229 person killed in June 2021

Human Rights Report:
The documentation section of Bangladesh Human Rights Commission (BHRC) and International Human Rights CommissionIHRC jointly furnished this human rights survey report on the basis of daily newspapers and information received from its district, subdistrict and municipal branches. BHRC survey found a total of 229 deaths in the killings. According to official figures, 1875 people died of the Covid-19 in all over the country. In June 2021, there were an average of 63 Covid-19 deaths and 8 deaths in killing per day. The Law enforcing agencies and related Govt. departments should be more responsible so that percentage of killing May be brought down to zero level. To institutionalize the democracy and to build human rights based society the rule of law and order must be established everywhere. Through enforcing rule of law only such violation against human rights can be minimized. 1875 persons died by corona virus in June 2021 according to official estimates
It appears from documentation division of BHRC:
Total 229 persons killed in June, 2021
Killed due to social discrepancy 10, killing by family violence 19, Political Killing 4, Killed by BSF 2, Assassination 2, Mysterious death 40, Women & Chilled killed due to rape 2
Killed by several accidents:
Killed by road accident 136, Suicide 12.
Besides victims of torture:
Rape 24, Sexual harassment 2.

Shafiuddin takes charge as new army chief

Human Rights Report:
Prime Minister Sheikh Hasina greets newly appointed Chief of Army Staff General SM Shafiuddin Ahmed presenting him with a bouquet at her official residence Ganabhaban.
Newly-appointed Army Chief General SM Shafiuddin Ahmed on Thursday took the charge of Bangladesh Army for the next three years.
Outgoing Army Chief General Aziz Ahmed handed over the charge to General SM Shafiuddin Ahmed at the Army Headquarters at a simple ceremony.
After taking the charge, General SM Shafiuddin Ahmed placed floral a wreath at Shikha Anirban (the eternal flame) and paid tribute to the martyrs of the country's war of independence.
He was then given a guard of honour by a smart army contingent at Senakunja and he planted a sapling there.
Earlier in the morning, Chief of Army Staff General SM Shafiuddin Ahmed was adorned with the new rank badge of General in presence of Prime Minister Sheikh Hasina at Ganabhaban in the capital.
Chief of Naval Staff Admiral M Shaheen Iqbal and Chief of Air Staff Air Marshal Shaikh Abdul Hannan
adorned the Army Chief with the rank badge of General.
After the ceremony, the premier congratulated the new army chief by presenting a bouquet and wished his success. The Army Chief also greeted the Prime Minister by presenting a bouquet and sought her blessings.
General SM Shafiuddin Ahmed was born on December 1, 1963 into an aristocratic Muslim family in Khulna district. His father, Professor Sheikh Mohammad Rokon Uddin Ahmed, a heroic freedom fighter, served as a people's representative for two decades in the pre-independence period.


Biden lays out plan to curb violent crime surge


Human Rights Report:
US President Joe Biden laid out new measures on Wednesday to tackle America's gun crisis against a backdrop of surging violent crime that his Republican rivals have seized on for weeks.
And with major cities seeing alarming spikes in shootings, homicides and armed robberies, the president warned Americans that the uptick could carry into the summer, following months of coronavirus lockdowns.
Biden unveiled his strategy during a televised address following a White House meeting with Attorney General Merrick Garland, a bipartisan group of city mayors and law enforcement leaders. "We're taking on the bad actors," Biden said. "We're not changing the Constitution, we're enforcing it," he added, apparently in response to Republican critics who warn the president's efforts at gun control amount to constitutional overreach.
The president pointed to what his administration has acknowledged is a spike in violence-homicides in the first quarter of 2021 were up 24 percent over the same period last year, it said-as justification for stricter gun laws.
"We have an opportunity to come together now, as Democrats and Republicans, as fellow Americans, to fulfill the responsibility of government in our democracy: to keep each other safe," he said, urging Congress to act on sensible gun control legislation.
Violent crime has risen over 18 months as the nation grappled with the coronavirus outbreak that shook the economy. "As we emerge from this pandemic," Biden said, "an additional summer spike may even be more pronounced than it usually would be."
His plan addresses ways stemming the flow of firearms used to commit violence. It also enables jurisdictions to reallocate unspent Covid-19 recovery funds to pay for new police hires, crime-fighting technology like gunshot detection systems and expanded efforts to prosecute gun traffickers.

Police block capital's entry, exit points


Human Rights Report:
Law enforcers have intensified efforts to make effective the special lockdown imposed on seven districts to cut off the capital and check the spread of coronavirus.
Police took position and set up check posts on roads and highways in the districts on Thursday to prevent public movement to and from the capital.
The law enforcers sent back many vehicles carrying passengers to and from the capital.
As the corona situation is gradually turning for the worse, policemen are struggling to make people abide by health guidelines across the country.
Amid the restrictions, thousands of people enter the capital from corona hotpots every day. Many also leave Dhaka.
The government has imposed lockdowns on Manikganj, Munshiganj, Narayanganj, Gazipur, Rajbari, Madaripur and Gopalganj until June 30.
Long-distance bus, train and launch services between the capital and other parts of the capital have been suspended due to the lockdowns.
As part of preventive measures, police have set up check posts on the city entry and exit points, including Gabtali, Abdullahpur, Jatrabari and Kadamtali.
Despite this, many people are still entering the capital in small vehicles on various excuses. Hundreds of people are also leaving the capital in the same way.
The government announced a nine-day lockdown in Narayanganj, Gazipur, Munshiganj, Manikganj, Madaripur, Rajbari and Gopalganj districts, starting on Tuesday, in view of an alarming surge in a Covid cases across the country.
In Gazipur, notwithstanding the lockdown restrictions, several shops remained open in the district on Thursday.
Many CNG-run auto-rickshaws and e-rickshaws were also seen plying in Gazipur.
Inter-district buses stayed off the roads but that did not deter the daily commuters from travelling to the capital via Dhaka-Mymensingh and Dhaka-Tangail highways.
These people paid extra fares to travel to the capital by CNG-run auto-rickshaws.
Experts feared that lockdown will not come into effect if banks, offices and factories are allowed to remain open. The local administration has taken several measures to ensure strict lockdown in Gazipur. Moreover, mobile courts have been constituted to penalise violators.
.
Equitable legal framework needed for sustainable dev: Anisul

Human Rights Report:
Law Minister Anisul Huq has stressed an equitable legal framework and social justice for achieving sustainable development of the country. Awami League government led by Prime Minister Sheikh Hasina has adopted various steps to ensure application of law without discrimination needed to implement SDG and other goals, he said.
The law minister was addressing a workshop organised by Legislative and Parliamentary Affairs Division of the Law Ministry at Hotel Sonargaon in the capital on 20 June.
About law ministry's role, he said "Legislative and Parliamentary Affairs Division is playing important role in executing Goal 16 (B) of the SDG. We adopted a project to detect discrepancies in various laws and remove those. The project reviewed 1,286 laws enacted during a period from 1799 to 2020.

Bangabandhu would have been proud of Bangladesh's achievements: Macron
Human Rights Report:
French President Emmanuel Macron appreciated Bangladesh's progress and said Father of the Nation Bangabandhu Sheikh Mujibur Rahman would undoubtedly have been proud of the achievements of his country.
"Bangladesh indeed deserves our admiration for the progress made in economic and human development, including in the context of the COVID-19 pandemic," he said in a message sent to President Abdul Hamid.
On the occasion of the National Day of Bangladesh, he sent the message on his behalf and the people of France with warm congratulations.