EDITOR
Dr. Saiful I. Dildar






I.T. Manager
Mohammad Ruhul Amin



Assistance by :
The Institute of Rural Development-IRD



EDITORIAL OFFICE:
Bangladesh Human Rights Commission (BHRC)
222/Kha, Malibag (1st floor)
Fat # C-2, Dhaka-1217
G.P.O. Box- 3725, Bangladesh. Tel: 88-02-9361353, 01714098355
Fax: 88-02-9343501, 8321085
E-mail: hrm.news24@gmail.com
Website: www.bhrc-bd.org

Editorial

'Fortnightly' পাক্ষিক

'Manabadhikar'মানবাধিকার

২৮তম বর্ষ ৬৫১তম সংখ্যা ১ আগস্ট ২০১৯ইং


মানব পাচার ও মানবাধিকার



মানব পাচারের সঙ্গে জড়িতদের চিহ্নিত করে তাদের আইনের আওতায় আনার নির্দেশনা দেওয়া হয়েছে। সম্মেলনে প্রবাসীকল্যাণ ও বৈদেশিক কর্মসংস্থান মন্ত্রণালয়সংক্রান্ত কার্য-অধিবেশন শেষে মন্ত্রী ইমরান আহমদ বলেছেন, তিনি জেলা প্রশাসকদের কোনো নির্দেশনা দেননি, তাদের কাছে সাহায্য চেয়েছেন। যে দালালরা গরিব মানুষদের লুটেপুটে দেড় লাখ টাকার জায়গায় সাত লাখ টাকা নেয় তাদের ধরতে বলেছেন। সরকার চেষ্টা করছে যাতে পুরো অভিবাসন প্রক্রিয়াটা একটা সিস্টেমে চলে আসে, যাতে গরিবরা নিরাপদে যেতে পারে। বিদেশগামীদের স্মার্টকার্ড নেওয়াসহ সব প্রক্রিয়া জেলায় জেলায় করার যে প্রস্তাব জেলা প্রশাসকরা দিয়েছেন এ বিষয়ে মন্ত্রী বলেন, এ কাজ ইতিমধ্যে শুরু হয়েছে। একেবারে ইউনিয়ন পর্যায়ে ডিজিটাল সেন্টার থেকে যাতে তারা নিবন্ধন করতে পারেন, সে ব্যবস্থা করা হচ্ছে। সমুদ্রপথে অবৈধভাবে বিদেশযাত্রার বিষয়ে মন্ত্রী বলেছেন, পুরো সমুদ্র এলাকা পাহারা দিয়ে পাচার রোধ সম্ভব নয়। এজন্য পাচারের সঙ্গে যারা জড়িত তাদের চিহ্নিত করা হচ্ছে। পাচারকারীদের ধরা গেলে তাদের ছাড়া হবে না। জেলা প্রশাসক সম্মেলনে মানব পাচার রোধ এবং জনশক্তি রপ্তানির ক্ষেত্রে দুর্নীতি রোধের যে তাগিদ দেওয়া হয়েছে তা তাৎপর্যের দাবিদার। বাংলাদেশের অর্থনীতিতে প্রবাসীদের পাঠানো রেমিট্যান্স আয় গুরুত্বপূর্ণ ভূমিকা রাখছে। কর্মসংস্থানের ক্ষেত্রেও এ খাতের ভূমিকা অনস্বীকার্য। বিদেশে প্রায় ১ কোটি বাংলাদেশি কর্মরত। বিদেশে তাদের কর্মসংস্থান না হলে দেশের অর্থনীতি কোন পর্যায়ে থাকত তা সহজেই অনুমেয়। এ প্রেক্ষাপটে জনশক্তি রপ্তানির ক্ষেত্রে দুর্নীতি রোধের উদ্যোগ নিতে হবে। মাত্র দেড়-দুই লাখ টাকা ব্যয় করে শ্রমজীবী মানুষ যাতে বিদেশে কাজ নিয়ে যাওয়ার সুযোগ পায় তা নিশ্চিত করতে হবে। পাশাপাশি মানব পাচার রোধে নিতে হবে কঠিন ব্যবস্থা। মানব পাচার বহির্বিশ্বে বাংলাদেশ সম্পর্কে নেতিবাচক ধারণা সৃষ্টি করছে; যা কোনোভাবেই কাম্য হওয়া উচিত নয়। অবৈধ মানবপাচার মানবাধিকারের চরম লঙ্ঘন। কারণ এভাবে মানবপাচার করতে গিয়ে বহু প্রাণহানীর নজির রয়েছে। মানবপাচারের ঝুঁকি নেয় মূলত দরিদ্র শ্রেণির সুবিধা বঞ্চিত লোকেরাই। তাই মানবপাচার বন্ধ হলে রক্ষা পাবে অনেক জীবন এবং বন্ধ হবে মানবতা লঙ্ঘন।



Hosting 1.1m Rohingyas a big burden Says PM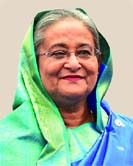 Human Rights Report
Mentioning that hosting over 1.1 million Rohingyas is a big burden for Bangladesh, Prime Minister Sheikh Hasina has said it wants to resolve the Rohingya crisis through discussions with Myanmar.
"Giving shelter to such a large number of Rohingyas is a big burden for us ... we want to resolve the issue through discussions," she said during a meeting with Lord Ahmad of Wimbledon on Monday evening (London time).
PM's Press Secretary Ihsanul Karim told UNB over phone from London that Lord Ahmad, also British PM's Special Envoy on Freedom of Religion or Belief, assured her of all possible support over the Rohingya issue, saying that new British PM Boris Johnson was aware of it. About combating terrorism, Hasina and Lord Ahmad said Islam is a religion of peace and it does not support terrorism. Hasina said her government created mass awareness involving the cross- section of people to fight terrorism. She also talked about the existing communal harmony in Bangladesh, saying that people of all faiths are exercising their respective religions freely. Hasina informed Lord Ahmad that the government was establishing Islamic research centres across the country to uphold the true spirit of Islam.



.
BHRC & IHRC Human Rights Report on July 2019 in Bangladesh
Total 194 persons killed in
July 2019

Human Rights Report:
The documentation section of Bangladesh Human Rights Commission (BHRC) and International Human Rights Commission-IHRC jointly furnished this human rights survey report on the basis of daily newspapers and information received from its district, sub-district and municipal branches. As per survey it appears that 194 peoples were killed in July, 2019 in all over the country. It proves that the law and order situation is not satisfactory. Bangladesh Human Rights Commissions extremely anxious about this situation. In the month of July, 2019 average 6 people were killed in each day.
The Law enforcing agencies and related Govt. departments should be more responsible so that percentage of killing May be brought down to zero level. To institutionalize the democracy and to build human rights based society the rule of law and order must be established everywhere. Through enforcing rule of law only such violation against human rights can be minimized.
It appears from documentation division of BHRC:
Total 194 persons killed in July, 2019
Killing for dowry 4, killing by family violence 31, Killed due to social discrepancy 61, Political killing 7, Killed by Law enforcing authority 30, Killed due to BSF 7, Killed due to doctor negligence 5, Abduction 7, Assassination 9, Mysterious death 27, Women & Chilled killed due to rape 5, Killed by Acid throwing 1.
Killed by several accidents:
Killed by road accident 205, Suicide 19
Besides victims of torture:
Rape 89, Sexual Harassment 17, Torture for Dowry 2, Journalist torture 2.





UN rights chief 'appalled' by US detention conditions

Human Rights Report:
Conditions in which migrants and refugees are being held in the United States are appalling, said the UN human rights chief on Monday, underscoring that children should never be held in immigration detention, or separated from their families.
"As a pediatrician, but also as a mother and a former head of State, I am deeply shocked that children are forced to sleep on the floor in overcrowded facilities, without access to adequate healthcare or food, and with poor sanitation conditions", said High Commissioner for Human Rights Michelle Bachelet.
She stated that according to several UN human rights bodies, detaining migrant children may constitute cruel, inhuman or degrading treatment that is prohibited under international law.
Spelling out that immigration detention is never in the best interests of a child, the OHCHR chief explained that "even for short periods under good conditions" it "can have a serious impact on their health and development". "Consider the damage being done every day by allowing this alarming situation to continue", she said. Noting the disturbing report by the US Department of Homeland Security's Office of Inspector General on the conditions in migrant centres along the southern border, Ms. Bachelet urged the authorities to find non-custodial alternatives for migrant and refugee children and adults. "Any deprivation of liberty of adult migrants and refugees should be a measure of last resort", she maintained. If migrants or refugees are detained, the High Commissioner emphasized that it should be for the shortest period - with due process safeguards and under conditions that fully meet all relevant international human rights standards. "States do have the sovereign prerogative to decide on the conditions of entry and stay of foreign nationals", she acknowledged, adding, "but clearly, border management measures must comply with the State's human rights obligations and should not be based on narrow policies aimed only at detecting, detaining and expeditiously deporting irregular migrants".

.



So far 15,369 affected with dengue fever


Human Rights Report:
The number of dengue patients is increasing every day and over 15,000 people have been infected with dengue so far in the country, according to a media report.
At present, dengue patients are undergoing treatment at different hospitals in 59 out of 64 districts of the country, the report claimed.
According to the Directorate General of Health Services (DGHS), on Tuesday some 335 dengue patients were admitted to various hospitals of the country in the last 24 hours.
The number of dengue patients reached to 15,369 and so far 8 of them have died of dengue fever, an update report, produced by the Health Emergency Operations Centre and Control Room of the DGHS, said.
But the unofficial data claimed that more than 30 people have died of dengue fever till now.





Eat vegetables to prevent cancer
Human Rights Report:
Healthy diet including vegetables can lower your risk of dying early from certain cancers. To prevent cancer, base your meals and snacks around fresh produce. Today, cancer is a major public health problem across the world. Therefore, many dietary recommendations are aimed at preventing this disease.
Cancer is a disease caused by an abnormal growth of cells, also called malignancy. It is a group of 100 different diseases and is not contagious. The disease can be treated through chemotherapy, a treatment of drugs that destroys cancer cells. A major amount of your lifetime risk of cancer can be minimised by making small changes in your diet and behaviours. And if you have already been diagnosed with cancer, eating nutritious can help support your mood and strengthen your body during this puzzling time. Focus on adding more vegetables to your diet in their best natural form to boost your immune system and help protect against cancer cells.
A few vegetables that are considered as super foods to combat cancer include:
Carrot: Carrot is a rich source of vitamin A, fiber and vitamin K. It contains phytochemicals that can act as antioxidants. These include Beta-craotene and alpha-carotene, luteolin, falcarinol and other polyacetylenes. These flavonoid phytochemicals have anti-inflammatory, anti-cancer and other protective effects which are important for immune function, maintaining healthy cells and activating carcinogen-metabolising enzymes among other roles.



Police investigate after man says he found baby in freezer


Human Rights Report:
A St. Louis man says a box that had been in his mother's freezer for decades contained the mummified remains of a newborn baby, which he discovered while cleaning out her home after she died.
Adam Smith told St. Louis media outlets that he opened the cardboard box Sunday expecting to find something like the top of his mother's first wedding cake or money because she never had a bank account. Instead, he says he found an infant's body and a pink blanket.
St. Louis police confirmed that they are investigating a "suspicious death" involving an "unknown infant" found inside the home and that autopsy results were pending. However, police would not answer questions Tuesday beyond an incident summary released Monday. That summary said that police were called to the home just before 1 a.m. on Sunday and did not say where in the home the remains were found.
Smith said police questioned him for two hours and that he provided investigators with a DNA sample.
Smith said his mother took the box with her as she moved to four different apartments in St. Louis but that she wouldn't answer her children's questions about it. He said he remembers asking his mother when he was 7 or 8 years old why she seemed sad. "All I can remember is that she told me, 'My oldest child would have been 21 today,'" he recalled. "And that her name was 'Jennifer.'"


.
.