EDITOR
Dr. Saiful I. Dildar






I.T. Manager
Mohammad Ruhul Amin



Assistance by :
The Institute of Rural Development-IRD



EDITORIAL OFFICE:
Bangladesh Human Rights Commission (BHRC)
222/Kha, Malibag (1st floor)
Fat # C-2, Dhaka-1217
G.P.O. Box- 3725, Bangladesh. Tel: 88-02-9361353, 01714098355
Fax: 88-02-9343501, 8321085
E-mail: hrm.news24@gmail.com
Website: www.bhrc-bd.org

Editorial

'Fortnightly' পাক্ষিক

'Manabadhikar'মানবাধিকার

২৫তম বর্ষ ৫৮৯তম সংখ্যা ৩১ ডিসেম্বর ২০১৬ইং



কাঁদছে মানবতা বাড়ছে অপরাধ


মুসলিম রোহিঙ্গাদের ওপর মিয়ানমারে সেনাবাহিনী ও সে দেশের পুলিশের নির্যাতন চলছেই। পাশপাশি চলছে মিয়ানমার থেকে বাংলাদেশ সীমান্ত পয়েন্টগুলো দিয়ে রোহিঙ্গা অনুপ্রবেশ। সে দেশে পুরুষদের পাশাপাশি পাশবিক নির্যাতনের শিকার হচ্ছে যুবতীসহ অসংখ্য নারী, পাষন্ডদের নির্যাতন থেকে বাদ যাচ্ছে না অবুঝ শিশুরাও। বাধাহীন মানবাধিকার লঙ্ঘিত হচ্ছে সেদেশে। মানবিক বিপর্যয়ের এক জ্বলন্ত জাহান্নামে পরিণত হয়েছে রোহিঙ্গাদের বসতভিটে। এমন নির্মমতায় প্রাণ হারাচ্ছে রোহিঙ্গা মুসলিম জনগোষ্ঠী। সর্বস্ব হারিয়ে নিজেদের প্রাণটুকু বাঁচানোর তাগিদে তারা পাড়ি জমাচ্ছে বাংলাদেশে। রোহিঙ্গা বস্তিতে অবস্থান নিয়ে তারা কাঁদছে, তাদের সঙ্গে সঙ্গে কাঁদছে মানবতা। কিন্ত বস্তির বিপুল পরিমাণ রোহিঙ্গাদের উপর সরকারের নিযন্ত্রণ না থাকার কারণে এলাকায় চুরি, ডাকাতি, জঙ্গি তৎপরতা, সন্ত্রাসী ও অপরাধমূলক কার্যক্রমও বাড়ছে বলে সচেতন মহলের অভিযোগ। এসব রোহিঙ্গাকে নিয়ন্ত্রণ জরুরি বলেও তাদের অভিমত। বিভিন্ন সূত্রে জানা যায়, মিয়ানমার থেকে পালিয়ে আসা কক্সবাজার ও বান্দরবানের প্রত্যন্ত অঞ্চলসহ উখিয়া ও টেকনাফের ২টি নিবন্ধিত ও অনিবন্ধিত রোহিঙ্গা ক্যাম্পে এবং বস্তিতে বসবাস করছে ৫ লক্ষাধিক রোহিঙ্গা। ১৯৭৮ সাল থেকে ২০১৬ সাল পর্যন্ত মিয়ানমারে ৩ দফায় সীমান্ত পাড়ি দিয়ে এদেশে আশ্রয় নিয়েছে তারা। ১৯৭৮ সালে নাইক্ষ্যংছড়ি উপজেলার ফাত্রাঝিড়ি বিজিবি (তৎকালীন বিডিআর) ক্যাম্পে মিয়ানমারের তৎকালীন নাসাকা বাহিনী ক্যাম্পে লুট করে অস্ত্র ও গোলা বারুদ নিয়ে যায়। সে সময় নিহত হয় একজন বিজিবি (বিডিআর) সদস্য। তখন রোহিঙ্গা মুসলিমদের উপর চরম নির্যাতনের অজুহাত তুলে ৩ লাখের অধিক রোহিঙ্গা সীমান্ত পাড়ি দিয়ে বাংলাদেশে চলে আসে। দু'দেশের কূটনৈতিক পর্যায়ে ব্যাপক আলোচনার পর পরবর্তীতে ১৯৭৯ সালে মিয়ানমার ও বাংলাদেশের মধ্যে সম্পাদিত চুক্তি মোতাবেক ২ লক্ষাধিক রোহিঙ্গা মিয়ানমারে ফিরে যায়। বেশির ভাগ রোহিঙ্গা ফেরত গেলেও লক্ষাধিক রোহিঙ্গা এদেশের প্রত্যন্ত অঞ্চলে ছড়িয়ে ছিটিয়ে রয়ে যায়। এরপর ১৯৯১ সালের নভেম্বর মাসের দিকে আবারো নির্যাতনে অজুহাতে বাংলাদেশে আশ্রয় নেয় ২ লাখ ৬৫ হাজার রোহিঙ্গা। উখিয়া, টেকনাফ, নাইক্ষ্যংছড়ি এলাকায় ২০টি শরণার্থী শিবিরে আশ্রয় নেয়। সরকারের কূটনৈতিক তৎপরতায় ২০০৫ পর্যন্ত ধাপে ধাপে বেশির ভাগ রোহিঙ্গা প্রত্যাবাসন প্রক্রিয়ায় মিয়ানমারে ফেরত গেলেও রেজিস্ট্রার্ড শরণার্থী ক্যাম্পে আটকা পড়ে প্রায় সাড়ে ৩২ হাজার রোহিঙ্গা। ২০১২ সালে ফের নির্যাতনের শিকার হয়ে দেড় লক্ষাধিক রোহিঙ্গার আগমন ঘটে। তারা বর্তমানে উখিয়ার কুতুপালং রোহিঙ্গা বস্তি ও টেকনাফের মুছনি, নয়াপাড়া এবং শাপলাপুর বস্তি এলাকায় ঝুঁপড়িঘর নির্মাণ করে অনিয়ন্ত্রিতভাবে বসবাস করছে। এসব রোহিঙ্গারা খুন, রাহাজানি, ছিনতাই, ডাকাতি, চাদাবাঁজি, ইয়াবা ও মানবপাচারে, জঙ্গি তৎপরতার সাথে জড়িত হওয়ার অভিযোগ রয়েছে।
এ অবস্থায় আরো রোহিঙ্গা অনুপ্রবেশ অব্যাহত থাকলে এলাকার সার্বিক পরিস্থিতি নিয়ন্ত্রণে রাখা কঠিন হবে। বস্তিসহ অনুপ্রবেশকৃত রোহিঙ্গা নিয়ন্ত্রণ জরুরি। আর তা হলে অভাবের তাড়নায় এসব রোহিঙ্গারা অপরামূলক কর্মকান্ডে জড়াবে এটাই স্বাভাবিক।
Hasina stresses enduring commitment to Human Rights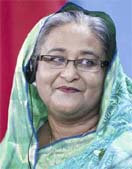 Human Rights Report:
On the occasion of International Human Rights Day today, Prime Minister Sheikh Hasina has stressed on continuing Bangladesh's 'unwavering commitment' to upholding the human rights and fundamental freedoms of all people as enshrined in the Universal Declaration of Human Rights.
'Bangladesh has always been at the global forefront in demonstrating its consistent engagement with human rights mechanisms and institutions and in living up to its national and international obligations to promote and protect human rights,' she said in a message.
'Commensurate with our Vision 2021 and Vision 2041, we remain committed to combating poverty, hunger, disease and illiteracy that constitute violation of human rights and dignity, and create barriers to the full enjoyment of human rights and social justice by certain number of our people,' she said
The Premier said her government had lived up to its commitment to ensure justice for the victims of the atrocious crime against humanity and genocide committed during our Liberation War in 1971. 'In the same spirit, we reaffirm our pledge on this Human Rights Day to continue to support the just struggles for peace, justice, freedom, and human rights of peoples anywhere in the world,' she added.

BHRC Human Rights Report on December 2016
Total 172 persons killed in December, 2016
Human Rights Report:
The documentation section of Bangladesh Human Rights Commission (BHRC) furnished this human rights survey report on the basis of daily newspapers and information received from its district, sub-district and municipal branches. As per survey it appears that 172 peoples were killed in December, 2016 in all over the country. It proves that the law and order situation is not satisfactory. Bangladesh Human Rights Commissions extremely anxious about this situation. In the month of December, 2016 average 5.54 people were killed in each day.
The Law enforcing agencies and related Govt. departments should be more responsible so that percentage of killing may be brought down to zero level. To institutionalize the democracy and to build human rights based society the rule of law and order must be established everywhere. Through enforcing rule of law only such violation against human rights can be minimized.
It appears from documentation division of BHRC:
Total 172 person people's killed in December, 2016
Political killing 4, Killing for dowry 9, killing by family violence 20, Killed due to social discrepancy 34, Killed by Law enforcing authority19, Killed due to doctor negligence 4, Assassination 6, Mysterious death 59, Killed due to BSF 4, Women & Chilled killed due to rape 5, Kill due to abduction 8.
Killed by several accidents:
Killed by road accident 216, Suicide 17
Besides victims of torture:
Rape 33, Torture for Dowry 8, Sexual Harassment 13.
Open letter to the president of the security council and member countries of the council to end the Human Crisis of Rohingyas in Myanmar


Human Rights Report:
The United States has reiterated its call for a full, formal and transparent investigation into violence in Burma's Rakhine State and laid emphasis on international community's participation for finding a solution there.
"We call for a full, formal and transparent investigation into the situation there," US Ambassador in Dhaka Marcia Bernicat told reporters on Monday.
She observed that no one had access to that region for sometimes and it is important to get that access for humanitarian support to the people there and to know what is going on inside Burma.
The US Ambassador was responding to questions at DCAB Talk in the city arranged by Diplomatic Correspondents Association, Bangladesh (DCAB). DCAB President Angur Nahar Monty and general secretary Pantho Rahman also spoke.
Earlier on November 15, Director, Press Office of the US Department of State Elizabeth Trudeau said they are concerned by reports of a spike in violence in Burma's Rakhine State and are following the situation closely and attempting to get reliable information about developments there.
The US Ambassador to Burma Scot Marciel, along with a visiting delegation of officials from the State Department as well as other US agencies, held a previously scheduled bilateral dialogue with the Government of Burma in Naypyidaw.
Health Benefits of Green Tea

Human Rights Report:
Dear President and Members of the Security Council,
As you are aware, a human tragedy amounting to ethnic cleansing and crimes against humanity is unfolding in Myanmar.
Over the past two months, a military offensive by the Myanmar Army in Rakhine State has led to the killing of hundreds of Rohingya people. Over 30,000 people have been displaced. Houses have been burned, women raped, many civilians arbitrarily arrested, and children killed. Crucially, access for humanitarian aid organisations has been almost completely denied, creating an appalling humanitarian crisis in an area already extremely poor. Thousands have fled to neighbouring Bangladesh, only to be sent back. Some international experts have warned of the potential for genocide. It has all the hallmarks of recent past tragedies - Rwanda, Darfur, Bosnia, Kosovo.
The head of the office of the United Nations High Commissioner for Refugees (UNHCR) on the Bangladesh side of the border, John McKissick, has accused Myanmar's government of ethnic cleansing. The UN's Special Rapporteur on human rights in Myanmar Yanghee Lee has condemned the restricted access to Rakhine State as "unacceptable."
The Rohingyas are among the world's most persecuted minorities, who for decades have been subjected to a campaign of marginalisation and dehumanisation. In 1982, their rights to citizenship were removed, and they were rendered stateless, despite living in the country for generations. They have endured severe restrictions on movement, marriage, education and religious freedom. Yet despite the claims by government and military, and many in society, that they are in fact illegal Bengali immigrants who have crossed the border, Bangladesh does not recognise them either.
Their plight intensified dramatically in 2012 when two severe outbreaks of violence resulted in the displacement of hundreds of thousands and a new apartheid between Rohingya Muslims and their Rakhine Buddhist neighbours. Since then they have existed in ever more dire conditions.
This latest crisis was sparked by an attack on Myanmar border police posts on 9 October, in which nine Myanmar police officers were killed. The truth about who carried out the attack, how and why, is yet to be established, but the Myanmar military accuse a group of Rohingyas. Even if that is true, the military's response has been grossly disproportionate. It would be one thing to round up suspects, interrogate them and put them on trial. It is quite another to unleash helicopter gunships on thousands of ordinary civilians and to rape women and throw babies into a fire.
According to one Rohingya interviewed by Amnesty International, "they shot at people who were fleeing. They surrounded the village and started going from house to house. They were verbally abusing the people. They were threatening to rape the women."
Another witness described how her two sons were arbitrarily arrested: "It was early in the morning, the military surrounded our house, while some came in and forced me and my children to go outside. They tied my two sons up. They tied their hands behind their backs, and they were beaten badly. The military kicked them in the chest. I saw it myself. I was crying so loudly. When I cried, they [the military] pointed a gun at me. My children were begging the military not to hit them. They were beaten for around 30 minutes before being taken away". She has not seen them since.
Despite repeated appeals to Daw Aung San Suu Kyi we are frustrated that she has not taken any initiative to ensure full and equal citizenship rights of the Rohingyas. Daw Suu Kyi is the leader and is the one with the primary responsibility to lead, and lead with courage, humanity and compassion.
We urge the United Nations to do everything possible to encourage the Government of Myanmar to lift all restrictions on humanitarian aid, so that people receive emergency assistance. Access for journalists and human rights monitors should also be permitted, and an independent, international inquiry to establish the truth about the current situation should be established.
Furthermore, we urge the members of UN Security Council to put this crisis on Security Council's agenda as a matter of urgency, and to call upon the Secretary-General to visit Myanmar in the coming weeks as a priority. If the current Secretary-General is able to do so, we would urge him to go; if not, we encourage the new Secretary-General to make it one of his first tasks after he takes office in January.
It is time for the international community as a whole to speak out much more strongly. After Rwanda, world leaders said "never again". If we fail to take action, people may starve to death if they are not killed with bullets, and we may end up being the passive observers of crimes against humanity which will lead us once again to wring our hands belatedly and say "never again" all over again.
Sincerely,
*Professor Muhammad Yunus, 2006 Nobel Peace Laureate *José Ramos-Horta, 1996 Nobel Peace Laureate
*Máiread Maguire, 1976 Nobel Peace Laureate *Betty Williams, 1976 Nobel Peace Laureate *Archbishop Desmond Tutu, 1984 Nobel Peace Laureate *Oscar Arias, 1987 Nobel Peace Laureate *Jody Williams, 1997 Nobel Peace Laureate *Shirin Ebadi, 2003 Nobel Peace Laureate *Tawakkol Karman, 2011 Nobel Peace Laureate * Leymah Gbowee, 2011 Nobel Peace Laureate *Malala Yousafzai, 2014 Nobel Peace Laureate *Sir Richard J. Roberts, 1993 Nobel Laureate in Physiology or Medicine *Elizabeth Blackburn, 2009 Nobel *Laureate in Physiology or Medicine, Emma Bonino *Former Italian Foreign minister, * Arianna Huffington, Founder and Editor, The Huffington Post *Sir Richard Branson, Business Leader and Philanthropist *Paul Polman Business Leader, Mo Ibrahim Entrepreneur and Philanthropist *Richard Curtis
SDG Advocate, Film Director *Alaa Murabit SDG Advocate, Voice of Libyan Women *Jochen Zeitz
Business Leader and Philanthropist *Kerry Kennedy Human Rights Activist * Romano Prodi
Former Italian Prime Minister.

In war, they lived - in freedom, they died
Syed Badrul Ahsan


Human Rights Report:
Forty five years after Liberation, it becomes necessary to recall the individuals who identified with the old struggle, indeed shaped the entire format of freedom for this country. And we will do that in the interest of history, for in a land fast becoming divorced from history it is important that memories do not lose themselves to the vagaries of time or human predatory instincts or both.
All these decades after our victory on the battlefield, we do not forget Sheikh Mujibur Rahman, the Father of the Nation, our Bangabandhu, the symbol of that mighty struggle. He was only fifty one when under his leadership and through his inspiration Bangladesh's people waged a determined struggle for liberty. And then we saw him die, at age fifty five, at the hands of soldiers driven by deep hate and deeper communal instincts. He never believed that his own Bengalis would take his life, but they did. In sheer ingratitude, we did not protest his killing. And we have paid the price. In death, he continues to preside over our destiny, for it is his dreams we build upon.
And then there were the trusted lieutenants who waged, in Bangabandhu's absence and in his name, the nine-month long war for freedom. For the very first time in Bengali history, there was a government constituted of and administered by Bengalis, an event unprecedented in our folklore and in our heritage. Syed Nazrul Islam, Tajuddin Ahmad, M. Mansoor Ali and AHM Quamruzzaman did not let the world forget that we were a people on the way to independent nationhood. And yet, in fewer than four years into freedom, they died in prison. That was the irony. These four brave men brought us the tangibility of freedom. And they were murdered, defenceless and helpless, in their free country..

The war mother and her child
Afsan Chowdhury

Jami and Jannat was a young couple with a three year old child in 1971. He had passed school from a boarding school in Pakistan and had several close friends from there. A few of them came from the army as well and although the political situation was getting more tense the friends had a great time doing the "dawat" rounds as several Pakistani young people and couple joined the group. On the 25th of March Pakistan army cracked down.
They spent a fearful night but received friendly calls from their army friends the next afternoon and soon a few came to visit. These visit actually were reassuring and scary both but they felt safer that they had friends on whom to call if in trouble.
One day in early May, the husband didn't return home from office. Jannat made frantic calls but got no answer. In desperation, she called a Pak army friend who was a regular visitor. He came over in the evening and told her that the husband had been picked up for helping the Mukti Fouj. He was in the cantonment and being questioned. She broke down and asked for his help. He promised to return the next day with more news.
The Offer
The officer came as promised and informed her that the husband was in a bad shape but he was alive and he had done his best to save his life. Then he told her that she alone could save him and she could do that by sleeping with him. As she collapsed on the chair, he left the house saying that next day she would have to call him if she agrees to take the offer. In return he would protect him and her child.
How she spent the night is not known but in the morning she called him up and agreed to the proposal. Her husband's life in return for her body. That night he came and shared the bed. It became a regular affair and the sight of an army jeep parked for most of the night meant that everyone guessed or knew what was going on. This included her husband's and her own family. It began in May and went on till October.
Another officer, another offer
Around November, when a war with India seemed inevitable, there were skirmishes all over Bangladesh borders and the officer went missing for a week. She was terrified about the situation fearing her husband had been killed and so he had stopped coming.

A strong voice for Bangladesh
AKM Moinuddin

Rushanara Ali MP, the UK Prime Minister's Trade Envoy for Bangladesh, enjoys great popularity here as the first person of Bangladeshi ancestry to be elected to the House of Commons. Bangladesh-born Rushanara, the Labour Member of Parliament for Bethnal Green and Bow, was re-elected in 2015 doubling her majority to 24,317 and earning 61 percent of the share of the vote.
She was the first in her family to go to University and studied Philosophy, Politics and Economics at Oxford University. The British Trade Envoy visited Bangladesh last week to reaffirm the importance the UK attaches to the trade and investment component of its relationship with Bangladesh. Her visit came at a time when the UK is getting ready to leave the European Union, a decision that will also affect its relations with other countries. Dhaka Courier correspondent AKM Moinuddin talked to her at the British High Commissioner's residence on December 18 on various issues related to trade and investment between the two countries.
During the conversation in the presence of British High Commissioner in Dhaka Alison Blake, Rushanara made it clear that she wants to remain a "strong voice" for Bangladesh to further boost trade and investment ties utilising powerful historic links between the two countries and its people.
"It's a great place to start," she said terming Bangladesh a very 'innovative, creative and dynamic' nation.
Rushanara, who was in Dhaka on her first visit to Bangladesh as a trade envoy, laid emphasis on converting those relationships 'tangible' so that Bangladesh can see further advancement.
Marking her visit, British High Commissioner Blake said Rushanara's visit should be taken as sign of the UK's commitment to building on their trade and investment relationship with Bangladesh.
.
.